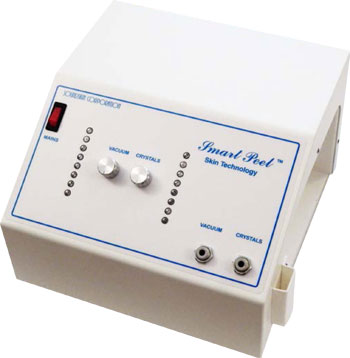 Smart Peel Microdermabrasion systems have been manufactured in the UK by BHC since 1999, the latest technology and reliability has been proven worldwide. Designed to meet the most exacting criteria for medical and beauty procedures by skin care specialists and aestheticians, where the comfort and wellbeing of the client is of paramount concern. Microdermabrasion is a controlled process of minute crystals abrading the epidermis to remove the top layer of dead and dormant cells. A Smart Peel exfoliation is more controllable than acid peels producing a smooth uniform result without traumatizing the skin. A course of treatments will produce a refined and younger looking complexion regardless of age, skin color or ethnicity, non-invasive with minimal or no discomfort and no down time. Excellent results can be achieved when performed by a trained therapist. Our unique systems will give you the edge over your competitors, give your clients a Smart Peel facial that leaves the epidermis looking bright and feeling fresh. No promises, just results.
Treatment Features
A course of treatments will help reduce the appearance of fine lines around the eyes and mouth. Improved micro-vascular circulation helps create a healthier dermis to reduce spots and skin blemishes, aids the lymphatic drainage and toxin removal process. Increased oxygenation will improve the regeneration of new cell growth when the reasons are entirely cosmetic, or for the restoration and repair of skin that has been traumatized.
Smart Peel Features
Individual electronic control of vacuum and crystals that are free running with no clogging. Five filters in each system, sealed crystals avoids contamination. Acetyl hand piece with the option of disposable tips for each client, meets the stringent health and safety regulations that are being implemented worldwide. Light weight and portable with low running costs. Dimensions: L 12″ x W 12″  x H 7 1/2″. Weight: 18 lbs.
NEW Smart Peel machines have a 2 year conditional warranty. All Smart Peel systems sold and serviced by BHC International USA or Soundskin LLC have been supplied by BHC International in the U.K. a registered FDA Medical Device Manufacturer.