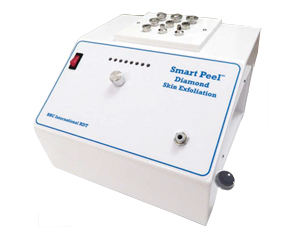 The new Smart Peel Diamond Microdermabrasion system has been designed and developed at the BHC site in Cambridgeshire UK. The Smart Peel name is well respected worldwide and the successful technology with proven reliability is synonymous with the Made in England badge. Smart Peel crystal systems use solid state electronics that was specifically designed for our Microdermabrasion units. We have completely reconfigured and incorporated a new electronic circuit and vacuum pump into the latest diamond skin exfoliation units. Giving a safe controllable exfoliation that leaves the skin feeling softer and smoother without the problem of crystals being left on the skin. The Smart Peel Diamond Exfoliation system is a crystal free procedure that incorporates a uniquely designed filtration system to safeguard both client and technician alike.
Features
The vacuum pump ensures the dead cutaneous material is completely removed from the skin by electronic control. Four internal filters eliminate cross contamination, a container fitted micro filter protects the environment and a disposable cotton filter in the hand piece ensures the procedures are safe. The vacuum connector on the system and the hand piece is a push fit type, the indestructible polypropylene pipe pushes in for quick release. Nine stainless steel diamond coated tips from 75 grit to 200 grit for different skin types and depth of resurfacing, ensures an even exfoliation for all parts of the body. Crystal free exfoliation is easier to use and safer around the delicate eye and mouth area, with no side effects and no expensive consumables to replace the Smart Peel Diamond Exfoliation System is the ultimate resurfacing device. We recommend the tips are sterilized in Endozime AW Plus solution for two minutes. Dimensions: L 12″ x W 12″  x H 7 1/2″. Weight: 17 lbs.
NEW Smart Peel machines have a 2 year conditional warranty. All Smart Peel systems sold and serviced by BHC International USA or Soundskin LLC have been supplied by BHC International in the U.K. a registered FDA Medical Device Manufacturer.
Benefits
Diamond Microdermabrasion can be an effective procedure for scar revision, or a gentle exfoliation on sensitive skin without the possibility of traumatizing the dermal layers. The therapist has a choice of 9 diamond coated tips for a specific depth of exfoliation on all skin types and colors. The diamond hand piece is easier to use and there are no crystals left on the skin, and no expensive consumables to purchase. Give your clients a silky smooth exfoliation that will rediscover the lost vitality of youthful looking epidermis.